REVIEWS
www.cooltourist.de 
Hoer.Test 
"It's Been mostly fine / most Of the time" - this is how Susan Kane looks from a relaxed point of view at her life and it is a phrase on her fourth CD, aptly titled "Mostly Fine". She is a distinctive singer/songwriter and started 2004 with her debut album "So Long" that gave her some attention in the beautiful Hudson Valley - north of the city of New York. "Mostly Fine" could change that in terms of nationwide recognition, because Susan Kane has sharpened her musical expressiveness and presents an impressive collection of ten songs representing the best of urban East coast-Country & Folk music. The album starts with "Jacksonville", a song that would perfectly fit in Rosanne Cash` musical journey to the South ("The River And The Thread") - by the way this is the answer to the question: Sounds like …? The musical arrangement is based on a solid drum/bass groundwork (Rich Zukor and producer Jeff Eyrich), there are no electric guitars, but a lot of typical acoustic Americana-roots-instruments like dobro, mandolin, banjo and fiddle. Susan Kane wrote seven own songs telling stories about the travails of love ("Worn Out Lines", "Love Can Die") and about the everyday problems of today ("Slip On Shoes"). In addition to that she picked three very special cover songs: two are from the legendary Jerry Garcia and Robert Hunter ("Brown Eyed Women", "Comes A Time") - originally released in the early 1970s - creating a unique Grateful-Dead-meets-Woodstock-atmosphere. The local songwriter Rob Morsberger - he passed away some years ago - wrote a song about the famous Lewis & Clark Expedition 1805 ("A Man Of Much Merit"), that Susan delivers with grace. What could be the next step in the career of Susan Kane? I would recommend a phone call with Rosanne Cash' husband John Leventhal, who lives in New York, asking him if he has the time (and the pleasure) to produce Susan's next album. This could be the right step toward the bright lights of success! 
Wolfgang Reitzammer
EuroAmericana Reviews 
A nice review of Mostly Fine that's come in from across the pond: 
http://lonesomehighway.com/…/7/28/reviews-by-paul-mcgee.html 
Reviews by Paul McGee 
Friday, July 28, 2017 at 11:13AM 
Susan Kane Mostly Fine Self Release 
This is a release that dates back to June 2016 but only found its way to our door very recently. More's the pity, as had it arrived last year, it would have figured in the 'best of' listings. Proof indeed, if it were needed, that timing is everything… 
There are ten tracks featured across almost forty minutes of songs that really inspire. This is sweet country music with superb playing and arrangements that both move and stir the soul. Produced by Jeff Eyrich, who plays Bass on all tracks, the understated dynamic among the musicians allows plenty of space for the melodies to work their magic. The use of violin, cello and viola on certain songs augments the organic flow of accordion, dobro, mandolin & lap steel. 
There are three covers that sit nicely into the whole project; two from the Grateful Dead (Brown Eyed Women and Comes A Time) and a song by Rob Morsberger (A Man Of Much Merit) that references a letter written by a dying son to his Father. 
All other songs are written by Susan, including two co-writes, and her ability to look at life with both humorous (Worn Out Lines / Slip On Shoes) and sensitive (Crying Babies/Away/Jacksonville) perspective, goes to highlight an artist of some depth. 
Review in Italian website Lonestar Time 
Quattro album all'attivo e una carriera musicale che ha portato Susan Kane a maturare un repertorio che prende spunto dalle radici familiari appalachiane (la madre è nativa del West Virginia) e le unisce al folk revival che ha sempre avuto un largo seguito nella nativa New York. "Mostly Fine" è composto da canzoni originali in cui dobro, fiddle, banjo, accordion, lap steel e chitarre acustiche formano un tappeto estremamente godibile in cui le melodie 'disegnate' da Susan Kane rendono prezioso un disco che scorre con grande naturalezza e autenticità. Ad accompagnare Susan in questo suo viaggio ci sono la violinista Lisa Gutkin (già con i Klezmatics), la dobro player Abbie Gardner del trio femminile Red Molly e una manciata di sidemen di valore anche se assolutamente poco conosciuti al di fuori del giro newyorkese roots, con una menzione particolare a Dan Bonis a mandolino e lap steel. Due sono le cover su cui è giusto soffermarsi, entrambe firmate dalla coppia Robert Hunter e Jerry Garcia, "Brown Eyed Women" e "Comes A Time", tra le più valide di un repertorio comunque ricco di momenti da ricordare. "Jacksonville" è a mio parere tra le più intense e accorate, così come ottima è la country music di "Worn Out Lines" in cui a duettare con Susan kane c'è Fred Gillen Jr. "Slip On Shoes" ha il fascino sensuale del Sud e mi ricorda molto le atmosfere sospese di un classico come "Ode To Billie Joe" portatto al successo da Bobbie Gentry, "A Man Of Much Merit" gioca ancora sul filo delle emozioni regalandoci un'altra interpretazione da pelle d'oca e "Love Can Die" è ancora in bilico tra country e folk, con le proprie radici che emergono con forza. "Mostly Fine" è una bella sorpresa e l'ulteriore conferma di quanto ci sia da scoprire nell'immensa scena indipendente americana. 
Remo Ricaldone
Review in website Keys and Chords by Lambert Smits 
After her well-received album 'A Word Child', New York's Susan Kane calls her fourth album 'Mostly Fine'. 'Mostly Fine' contains 7 original songs, including a musical poem and 3 covers. Usually it's acoustic, with guitars, dobro, banjo, accordion, violin and mandolin in the main roles, while bass and drums form consciously the rhythm section. The acoustic folk and country soon made an impression of Susan, whatever you hear from this album. It starts very nicely with the subdued, dobroslide overtaken 'Jacksonville'. Here Kane lets us hear her influences right away. The song has both folk and country influences. This also applies to successor 'Love Can Die', in which David Bernz makes a beautiful piece of banjo. Banjo, which is replaced by the light uptempo country-like 'Brown Eyed Women' by Lisa Gutkins violin. A solid impression number is the "Away" ballad, in which Susan evokes the sorrow and missions of those who left her in a masterful way. Worn Out Lines is a typical authentic country number. Do not give up and chase your dreams is not always easy. Often you need a push in the back. That push will give Susan you in the box 'Comes A Time'. Susan Kane could have renamed 'Mostly Fine' to 'Always Fine'. Modest isn't she, Susan Kane!
Review in Altcountry Forum 
Mostly Fine is het vierde album van singer-songwriter Susan Kane uit New York. Hoewel zij aan de oostkust van Amerika woont, liggen haar muzikale sympathieën voornamelijk in het meer zuidelijke deel van de USA. In Fred Gillen Jr's Woody's House studio in de staat New York heeft Kane een tiental liedjes vastgelegd voor het nageslacht. De overwegend zelfgeschreven liedjes zijn stilistisch verbonden met de country- en bluegrassmuziek. Een handvol bevriende locale musici zijn door producer Jeff Eyrich van stal gehaald om het fraaie stemgeluid van Kane te omgeven met akoestische klanken uit verschillende bronnen.  Hoofdrollen zijn daarbij weggelegd voor Abbie Gardner (dobro), Dan Bonis (lap steelgitaar, mandoline), Lisa Gutkin (viool) en gitarist Peter Calo. Het gezelschap speelt met hoorbaar gemak de vele melodielijnen en akkoordenschema's die de kern vormen van een alleszins acceptabel repertoire dat de gemiddelde liefhebber van dit genre goed bevallen zal. Naast aanstekelijke eigen liedjes met een lichte ironische afdronk en een pakkend duet met Fred Gillen Jr presenteert onze vriendin uit De Grote Appel een tweetal uitstekende coverversies van Brown-Eyed Women en Comes A Time van Jerry Garcia en Robert Hunter. Vertolkingen die het beeld bevestigen van een artiest die op uiterst integere en verzorgde wijze omspringt met haar culturele en muzikale erfgoed. 
www.susankane.com 
(Koos Gijsman) 
billybop.belgium
Style : Country 
Rate (1-5)  4 Stars : 
The fifth album of Susan Kane, Mostly fine is once more an album filled with songs and tunes that are certainly made to sit down an take some time listen to them. Dripped into country and a bit of folk the ten songs on Mostly Fine are one by one little gems made of first hand stories and life observations. Some of them self-penned, other penned for her, each tune completes the universe Susan tries to live in and wishes to take us to on this musical journey. Leading track "Jacksonville" is amongst the better songs on this cd. So is "Brown Eyed Women" and the funky/Jazzy "Slip on shoes". Closing tune "Comes A Time" makes me think of bands like the Cowboy Junkies and The Walkabouts. 
Mostly Fine is an album that needs to grow on you and you need to take time to listen to this album as well. Unlike many other country albums, this is one to enjoy with a good glass of whiskey and a dog in your lap. 
Mr. Blue Boogie
Zero Magazine   .nu 
Susan Kane – Mostly Fine 
Robert Ryttman 2017-07-16 
8 
Mycket lyckat fjärde album från New York-baserad countrysångerska. 
Skivbolag: Susan Kane Music 
Susan Kane har skapat en riktigt fin country/americana-platta i och med Mostly Fine. Jag kommer att tänka på Emmylou Harris emellanåt när jag hör den, och henne tänker man inte på om man lyssnar på skräp. Det här är kvalitet helt enkelt, stämplad och levererad från New York. 
När Susan Kane spelade in sitt tredje album (A Word Child) gjorde hon det mestadels i Austin, Texas, välkänt för sin fina traditionella country- och honky tonk-musik. Men det är i New York hon föddes och där bor hon nu också, även om hon växte upp i New Jerseys förorter. I kompet förekommer här många av de traditionella instrumenten inom countrymusik, så som dobro, fiol, mandolin, dragspel, banjo och lap steel, samt förstås gitarrer, bas och trummor. Kane är en singersongwriter av rang, men på nya albumet har hon även petat in ett poem, samt tre covers: Rob Morsbergers "A man of much merit" och Grateful Deads "Brown eyed women" och "Comes a time". Således återstår det sju egna kompositioner och i sanningens namn är dessa minst lika bra som de lånade låtarna, om inte bättre ibland. Personligen uppskattar jag "Jacksonville" mycket, liksom "Love can die", "Away" och "Slip on shoes", samt "Worn out lines" som är en ljuvlig honky tonk-duett tillsammans med Fred Gillen Jr. Men det finns fler höjdpunkter från Susan Kanes penna på den här plattan. Hon skriver helt enkelt väldigt bra låtar och ett texthäfte medföljer albumet, vilket alltid är en fördel när man har något att berätta. Rösten då? Jo, den är mycket behaglig, mogen, följsam, varm och tilltalande. Mostly Fine är kort sagt en väldigt lyckad platta som jag tycker att alla fans av nämnda musikstilar borde ge en ärlig chans.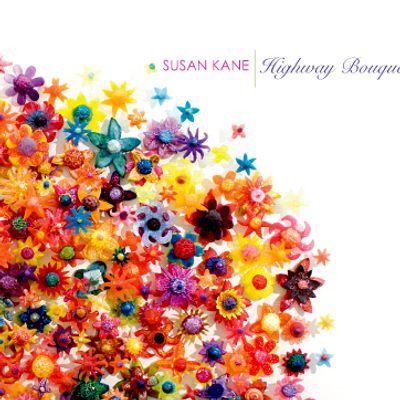 Add a heading
Click for pdf of reviews of Highway bouquet